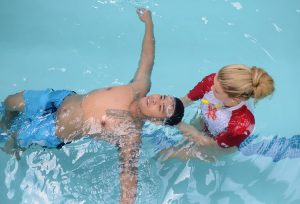 Swimming is such an important life skill, but many adults missed out on the opportunity to learn as children. 
Healthways is supporting Adults to learn now!
The opportunity to learn as an adult is here now.  Healthways' Community Initiatives is supporting adults in the local community to improve their swimming skills in Term 2 & 3.  The flow-on benefits to your health, your life experiences, and your safety are inspiring and exciting.  All you need to do is start!
Do you know how to swim?
Can you go in a pool? Or do you watch from the outside?
Can you go snorkelling?  Or do you take photos of everyone else?
Can you go on a boat?  Or are you terrified of falling in?
What do you learn in classes?
At the end of Adult Level 1 you'll be able to:  Swim 5 metres completely unassisted; Float on your back for 30secs; Demonstrate breath control; Move around the pool with floatation aid using kicking and scooping arm action.
At the end of Adult Level 2 you'll be able to:  Swim 20metres with underwater arm action completely unassisted; Swim 20metres basic Freestyle and Backstroke with kick board; Control your body position horizontally and vertically; Start displaying water confidence.
At the end of Adult Level 3 you'll be able to:  Swim multiple laps of the pool unassisted; Have good understanding of Freestyle, Backstroke and Breaststroke; Be confident swimming through different water conditions; Be deep water confident.
Adult Special Offer
To encourage more adults to improve their swimming before next Summer, Healthways is offering the following prices for lessons from Apr-Sept:
Adult Group Swimming Lessons:
Max 4 students/class – $21.00ea booked by the term
Adult Private Swimming Lessons SPECIAL OFFER:
1 student/class –

Normally $53.00ea. SPECIAL $43.00ea
2 students/class – Normally $34.50ea. SPECIAL $28.50ea
*Class times available Mon-Fri.  Special available to people 16+ years.  Valid for classes booked in Term 2 and Term 3 2020 (Apr-Sept).
Don't waste any more time.  Start today!
Every adult wishes they learnt earlier.  The rewards of learning are so wonderful — just picture yourself swimming confidently.  It can happen!  Seize the moment and start your swimming journey now!