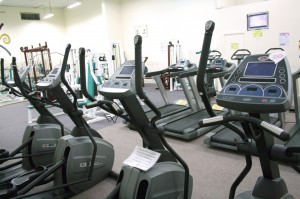 All gym facilities & classes can be used on a casual 'pay-as-you-go' basis, and for frequent visitors there are 10 visit card and membership options.  Our prices are very competitive, and we have a number of payment options to suit you.
Gym Memberships:
Our memberships are great value!
With everything included, you can keep your interest and motivation up by adding as much variety to your exercise program as you like. And if you need extra help our personal trainers are always available to assist you with new exercises to achieve your health and fitness goals.
All memberships include:
Assessment and Program with personal trainer upon commencement of your membership. After 5 visits another program run-through to make any changes. And then assessments and/or program run-throughs as required for the duration of your membership.
Unlimited use of:

Gymnasium
Circuit Room
Any of the Group Exercise Classes – incl. yoga, pilates, belly dance, boxing circuit, love-it-latin! classes, senior gym classes, etc.
Pool during public swimming times

Use of our Supervised Playroom facilities for the kids
Discount on Personal Training Sessions
Ten Pin Bowling at children's prices
And a Renewal Letter will be sent to you towards the end of your membership offering renewal prices.
Fixed Term Memberships:
2022:
Adult
Student
Group
3 months:
$461
(ie. $35.50/week)
$436.00
(ie. $33.55/week)
$436.00
(ie. $33.55/week)
6 months:
$858.00
(ie. $33.00/week)
$832
(ie. $32.00/week)
$832
(ie. $32.00/week)
12 months:
$1664
(ie. $32.00/week)
$1560.00
(ie. $30.00/week)
$1,560.00
(ie. $30.00/week)
At the end of your fixed term period you can swap to fortnightly billing:
Every fortnight thereafter*:
$32.00/week
$32.00/week
$32.00/week
Monthly Memberships:
2022:
Adult
Student
Group
Direct Debit*:
$32.00/week
$32.00/week
$32.00/week
* Minimum 6 months membership. Automatic payment via credit card or direct debit. Easy cancellation - 1 month notice.
.
Membership Lay-by Option:
For 3, 6 and 12 month memberships you can lay-by your membership. Simply pay a minimum deposit of 50% of the cost of your membership and then you have one month to pay off the balance. While you are paying off your balance you can use the facilities and start your road to better health and fitness.
.
Group Memberships –
Join with a Friend!:
Did you notice the 'Group' membership prices above?  If two or more people pay for a 3, 6 or 12 month membership at the same time, everyone pays student prices.  So, join with a friend and come together.  You'll be able to get fit and catch up on all the gossip at the same time.
.
Pay-as-you-go:
Casual visits:
If you don't wish to purchase a membership we also offer individual casual visits and 10 visit cards.  Casual visits can be used for any combination of gym/classes/pool within one session.
Casual visits are perfect for people who:
Will be coming to the gym infrequently.
Want to try the gym before committing to a membership.
2022:
Adult
$28.00/session
Student
$26.00/session
10 Visit Card
$260.00
(Note: 10 visit cards have no expiry date.)
Gym Appointments:
If you are 'paying-as-you-go', professional instruction for what you should be doing in the gym is still available.  Simply make an appointment with a gym instructor and have an individual exercise program written for you.  Individual exercise programs are designed specifically around your ability, health and fitness levels.
We usually start with a 1hr consultation during which your ability, health and fitness levels are assessed.  Depending on how complicated your needs are, you may also have time to be shown through your exercises during this first appointment.  However, if your needs are more complicated simply book another half hour appointment during which you will be properly shown through your list of exercises.
| | |
| --- | --- |
| 2022: | |
| Hour Appointment | $85.50 |
| Half Hour Appointment | $59.70 |
Have a look through what else we offer:
Still not sure what to do?
Are you still unsure about what to do?  To show you that our gym is comfortable for all – including people who have never come to a gym before – we encourage you to come in and try the facilities with a complimentary trial passes.  CLICK HERE for more information.
Come in and get started today.