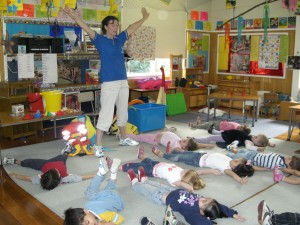 Water Safety Education Presentations Information
These presentations have won the:
2012 Victorian Innovative Program of the Year from Aquatics and Recreation Victoria;
2006 Victorian award for "Excellence in the provision of Water Safety Education" from Life Saving Victoria; and
2006 Victorian award for "Excellence in the provision of Water Safety Education" from Aquatics and Recreation Victoria.
We are very pleased to continue these presentations on an ongoing basis.
The presentations are FREE and fully sponsored as part of Healthways Community Initiatives Program.
They aim to educate:
3-5yr old children at kindergartens/pre-schools/childcare centres;
5-12yr old children at primary schools;
Teachers at all children's education facilities; and
Parents of under 3yr old children at mothers groups/community groups/etc.
The main points we want the children to understand and remember from the presentations include:
Always swim with an adult – We emphasize the importance of always having an adult with them before they go near water
Beach Safety – We make a safe beach area in the classroom, making sure we're all between the red and yellow flags, that we have two life savers, and that we always swim with an adult. We explain to the children that the beach can be a lot of fun, but there are some things that we don't touch. We use pictures and toys to teach the children not to touch syringes, jellyfish, coral, crabs, sea urchins or blue ringed octopuses.
Boat safety – We bring with us a range of life jackets and show the children how to correctly put one on. We explain to children the importance and the reason why we must always be wearing a lifejacket.
Swimming lessons – We explain the importance and fun of having swimming lessons, and that people of all ages have swimming lessons.
What to do in an emergency – We teach the children what to do if they find themselves in danger in the water, how to yell for help, and what to do if someone else is in trouble in the water.
The presentations are modified to suit the children's age. Swimming equipment (eg. kickboards), water survival equipment (eg. life jackets) photos, posters and toys are used to facilitate presentations. The presenters are Austswim qualified and registered, and have had much experience teaching Swimming and Water Safety.
It is a fact that, on average, 75 children drown every year in Australia, and we feel that swimming and water safety education is extremely important for everyone. We look forward to assisting your children with these life saving skills.
Presentations are booked on a first come, first served basis and may be booked up to 8 months in advance.
We look forward to visiting your group soon.
COVID update…
We traditionally have visited centres in-person to deliver class-room based water safety education programs, but in the current environment face-to-face is not an option. So, we have worked hard to provide an alternative for your children, that's easy for you! We have produced an interactive video of the presentation that we normally deliver face-to-face, for you to deliver to the students at your centre yourself. It's all done for you, and it's completely fool proof! It takes about 45mins (which you can do in one sitting, or over 2 sittings), just like if we were visiting you face-to-face.
And as always, it's FREE! This program is fully funded by Healthways Community Initiatives.
For more information and to access the online resource please CLICK HERE: https://www.healthways.com.au/water-safety-remote-learning/.