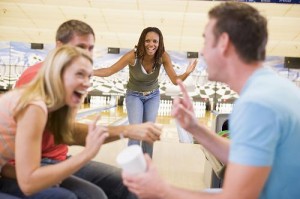 Philip Webb Real Estate wrote, "Thanks for a great function. You and your team were so helpful from the time we made the initial booking right through to the actual function. Many of our staff commented that it was the best social function we'd had all year. Thanks again."
Chris & Kim wrote, "Thank you for being such a special part of our Engagement Celebrations! Your help in preparing the night and help on the night was very much appreciated and contributed to the overall success of the night!"
Choose the booking structure that best suits your needs…
Bowling is a great activity for an assortment of functions and events including: 18th/ 21st/ 30th/ 50th/ 60th birthdays, family nights, presentation nights, sport activities, social activities, corporate parties, end of term/year parties, anniversaries, etc.
Depending on the number of people you're expecting at your event and the type of event you're holding, choose from one of the following 3 booking options: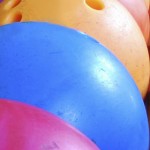 Option 1: Bowling Only
(ie. No Party Room afterwards)
Available to any group size, you simply book the number of lanes you require. We generally suggest making a booking based on 4-5 people per lane. 
Each game has 10 frames, and two balls within each frame.
1 game – Recommended for children 5-8 yr olds
2 games – Recommended for 8+ yr olds & Adults
The approximate time is shown below so that you can plan your event, but your booking allows for everyone to finish their games.
2021:
Time
1 Game - Child
$14.40*/person
(Approx. 1hr)
1 Game - Adult
$15.40*/person
(Approx. 50mins)
2 games - Everyone
$24.80*/person
(Approx. 1.5hrs)
Extra games - Everyone
$9.00*/person
(Approx. 13mins/person)
* At Healthways shoe hire is FREE.
Option 2: Bowling & Food After
(ie. Bowling + ½hr Party Room)
Bowling as per Option 1, plus Party Room area is booked exclusively for a half hour at the end so that your party can stay to eat and socialise after bowling.  (Alcohol is NOT permitted.)  Bookings are confirmed by a $70.00 non-refundable deposit.
For information about the different food options, see the section at the bottom of this page.
2021:
Self-catering
Catered Food
Time
1 Game - Child
$15.90/person
$24.90/person
1.5hrs
1 Game - Adult
$16.90/person
$26.90/person
1.5hrs
2 Games - Everyone
$26.90/person
$33.90/person
2hrs
* At Healthways shoe hire is FREE.
Option 3: Private Function
(ie. Unlimited Bowling + Exclusive Use of Whole Bowling area, incl. Party Room)
How many people are you expecting at your event? For larger functions consider booking the entire bowling area for your group!
You have exclusive use of the whole bowling area,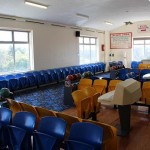 including the party room, and you have unlimited bowling games.
 32-48 people can bowl comfortably at any one time.  (Maximum number is 80 bowling at once.)
Whole venue can comfortably fit 100 people.  (If you are expecting more than 100 people you can also book the 1st floor foyer and kitchenette as an overflow area.)
You have UNLIMITED bowling games!
Bring your own food and drink!  The responsible use of alcohol is permitted in the function area.
You can decorate!  Approach us with your ideas of what you'd like to do.  We're flexible as long as no permanent marks are made.
Bookings are confirmed by a $200.00 non-refundable deposit.
| | |
| --- | --- |
| 2021: | |
| Three hours: (Anytime) | $1080.00 |
| Two hours: (Off-peak times only: Any day finishing before 6pm) | $780.00 |
| Extra hours: (Any time) | $300.00 |
| For groups over 100 people: Add 1st Floor Overflow area (Any time) | +$55.00 |
Food Options:
Catered Food:  If you would like the convenience of having your food organised for you, our catered food is based on what's required for a Birthday Party.  It includes:  Party pies & Sausage rolls, Pop top drink for each person, Vienetta ice-cream cake, and Bag of lollies for each person.  Sit back and let us do it all for you.  (Minimum of 10 people.)
Self-catering:  Organise your own food.  Bring everything with you and take everything home with you at the end.  A pie warmer, microwave & bar fridge are provided.   You can bring food from home, or it is a very popular choice to organise take-away food to be delivered.  External caterers are also welcome.  (No minimum number of people required if the function is organising their own food.)
More information about Bowling can be found here:
Phone 9895 2300 to make a booking today.