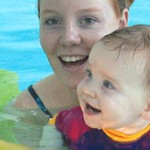 AQUA-BUB PROGRAM & AQUA-TOT PROGRAM 
Age: 6mths – 3yrs
These programs aim to familiarise children with the water, encourage water confidence and introduce independent skills. Parents assist their children in water activities, and develop skills together in: Entries & Exits, Floating, Sculling & Keeping Balance, Underwater skills, Kicking and arm actions, Parent Education, Extra carer and child skills. Nursery Rhymes and a large variety of toys are used to engage the children and assist their mental and physical development.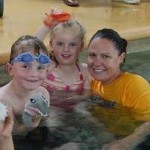 PRE-SCHOOL PROGRAM
Age: 3yrs – 5yrs
This program develops greater water skills and teaches children across five levels – beginner, beginner gold, confident, intermediate and advanced. Beginner classes introduce students to the water, while progression through the levels results in advanced classes being able to swim independently and developing basic stroke technique.
Children are engaged using floatation aids, equipment and/or toys. We aim to make the water an enjoyable experience so children can't wait to get to the pool for their lesson every week.  When children go to school they swap into the equivalent school age level.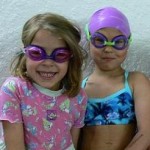 SCHOOL AGE PROGRAM
Age: 5+yrs
Our school age program is based on the national swimming grading guidelines. As the children progress from level 1 to level 4 they are taught attainable and challenging skills aimed at broadening their water independence, stroke technique and water safety skills.
Our classes develop skills in — entries & exits, floating, sculling & treading water, swimming technique on front, swimming technique on back, survival skills, underwater skills, diving skills, rescue skills and endurance.  In addition, school age children may participate in special events throughout the year including snorkelling workshops, distance swims, etc.

LEVEL 5 DEVELOPMENT SQUAD
This program provides students with an introduction to a squad environment, while not being intimidating for those children who don't wish to pursue competitive swimming. It focuses on improving stroke technique and developing endurance and speed.
LEVEL 6 & 7 SQUADS
These programs focus on advanced stroke and survival skill development. During these classes improved stroke technique results in improved speed and endurance. Additionally, the students general health and fitness levels are constantly challenged. These programs provide a fun recreational environment for students who enjoy swimming and/or wish to pursue competitive swimming.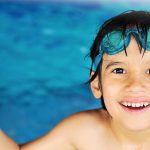 PRACTICE PLAY 
Age: 4mths-Adult
These sessions are a great way to introduce you to water skills in a less formal setting and/or to reinforce the skills you are learning in classes.  The pool is set up with lots of toys and teaching aids that are used in classes.  There is a teacher in the water to guide you through appropriate skills and assist with swimming technique as needed.  Sessions go for 45mins.  Under parental supervision, students can explore, develop and improve their water skills through self-paced practice and play.
Supervision needed depends on age and swimming level:
Babies, Tots, PreSchoolers — Parents in the water, 1:1 supervision.
School-age children in Levels 3L & below — Parents in the water, Max. 1:2 supervision.
School-age children in Levels 3H & above — Parents in or out of the water, Max. 1:2 supervision.
Adults in Level 1 — Supervisor in the water, Max. 1:2 supervision.
Adults in Level 2 & 3 — No supervisor required.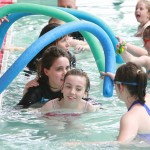 ACCESS AND INCLUSION PROGRAM
Age: All
These classes provide toddlers, children, teens and adults with the opportunity to benefit from learning in water. Depending on the needs of individual students there are group classes, private classes, and social groups available.
.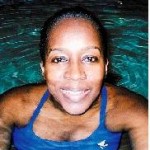 ADULT LESSONS
These classes provide adults with the opportunity to gain confidence in the water, learn how to swim or improve technique in a personal and friendly environment. Adults can progress at their own pace, while gaining the additional health and fitness benefits of being in the water.
.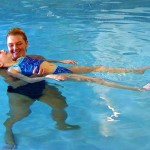 PRIVATE LESSONS
Private classes provide adults or children with personal tuition. Whether you're just starting out or you want extra help with your skills, private lessons give you all the attention you need. Lessons can be arranged for one(teacher)-to-one(student), or for up to one(teacher)-to-four(students).
.
Progression through the Program:
To help students progress through the program, firstly, classes are grouped according to age.  Children learn differently as they change from toddlers to pre-schoolers to primary school age and our classes allow children to be taught in age-appropriate ways.
Then within each age group, classes are grouped according to ability using comprehensive levels which include skills covering: Entries & Exits, Floating, Sculling & Treading Water, Swimming on Tummy, Swimming on Back, Survival Sequences, Underwater Skills, Safe Diving Skills, Rescue Skills, and Endurance.  All our level criteria can be seen at the centre on the pool foyer wall.
The levels within each age group fit together as shown below.