You can look up the class timetable at any time online, and also book online if you wish.  Follow the instructions below.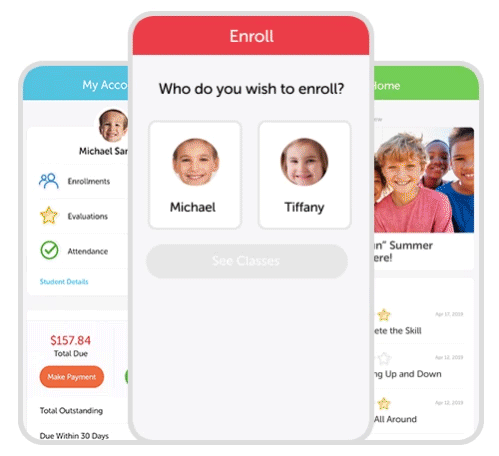 There's 2 ways to use the client portal – web browser or via the app.  You can use whichever you prefer; one, the other, or both.
WEB-BROWSER:  Please go to https://app.iclasspro.com/portal/healthways
MOBILE APP:  Please go to your preferred app store and search for 'iClassPro App'.  Enter the organization code: Healthways.
You can view the timetable anytime by clicking on the 'Booking' tile.  If you don't know what level you are, the skills each level is working on and the links to search for specific levels can be found by clicking on the 'News' tile.
Simply follow the prompts to set up an account:
For NEW clients:  Follow the prompts to 'Create an account'.
For CURRENT AND PREVIOUS clients:  Click to log-in:

The first time you log-in, click on 'forgot password'.
Enter the same email address as what we've got on file for you.
Open your email and follow the links to set-up a password. (If you can't find the email, please check your junk folder.)
You're all set-up, and you should be able to log-in.
You can enquire and book over the phone.  Please phone us on:
Mont Albert North Pool – 9895 2300
Ringwood Pool – 9879 5777
Come & Try:
COME AND TRY OUR SWIM LESSONS NOW!…
SWIM STARTER PACK FOR $150.00. (Available for regular term classes only.)
To see whether our swim school is right for you, when you first enrol you'll just pay a deposit of $150.00. This is called the 'Swim Starter'.  This covers your classes until the first monthly direct debit, so you can try the classes out.  If you're happy simply stay on and your first direct debit will happen as scheduled. If you don't wish to continue, simply cancel your classes before your first direct debit.  Easy!
We look forward to seeing you soon!
Kind regards,
The Healthways Team
___________________________________________
Healthways – "Creating Healthy Happy Communities"