Peter Wallace
Male
WOW 72.9 kg in 12 mths and Slimmer of the Year finalist!
My Ultra-Lite Story…
I stepped on to the scales at the Port Macquarie Base Hospital and saw that I weighed a whopping 157.9kg. I stood there and felt like my life had hit an all time low.
I had no social life, no clothes that fitted me and no confidence. But it wasn't until the embarrassment of not being able to fit into a pair of 7 XL pants for my brother's wedding that I realised this is not who I wanted to be. I decided I wanted to lose 10kg before the wedding, not just for myself but for my family.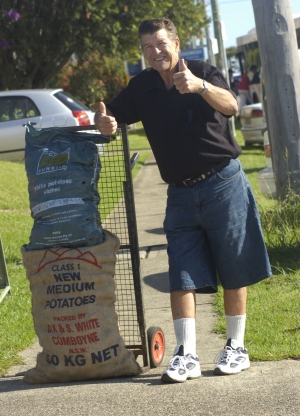 I joined up to an Ultra Lite program and with the support from my wife, friends and family I managed to work off 10kg in just one week!
Because of my weight loss, I have more confidence. I also have a better social life and have taken up cha cha and rock'n'roll dance lessons, which I love!
Each morning I go to the gym, I love to walk and I can now ride a bike – something I've wanted to do for years.
I had a lot of health difficulties, like type 2 diabetes, unstable cholesterol and variable blood pressure but these difficulties proved minor compared with the passing away of my wife of 38 years, Christine, due to an unexpected heart attack. She was my inspiration, comfort and constant support. Christine always cooked my meals and watched out for my health. Now it was up to me to keep going.
I know that she is always with me in spirit encouraging me to work harder and I hold on to that.
Thanks to staff at Plunkett's Chemmart Pharmacy.
Surprise your family with a lighter, healthier you.
Ultralite weight-loss program delivers results.
Lose up to 10kg in 5 weeks.  And maintain your new weight.
With Ultralite it is real food you buy, it is real food you prepare, it is real food you enjoy – no shakes!
There's no gimics, just proven success for our clients.
Want to know more?

We are so sure that this program will work for you that your first consultation is FREE!
Start by filling in your details below for an obligation free appointment with a personal weight-loss consultant.
We offer Ultra Lite at two facilities in the Eastern suburbs of Melbourne:
MONT ALBERT NTH  –  Healthways Recreation Centre, 1-11 Arcade Road, Mont Albert North 3129, ph. 9895 2300
RINGWOOD  –  Healthways Aquatic Centre, 108-110 New Street, Ringood 3134, ph. 9879 5777
We look forward to helping you with your weight-loss goals very soon.