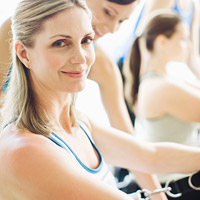 We have launched a new type of exercise program to help you 'Energise your Day'.
The classes are early in the morning, so you can be showered and out the door by 7.30am if you need to be on the road going to work or be back home to get children ready for school.
Mondays 6.30-7.20am
Wednesdays 6.30-7.20am
Fridays 6.30-7.20am
After just 5 weeks, previous participants have said:
"I feel fitter and have really enjoyed the classes."
"I have more energy during the day!"
"Setting goals and benchmarks were a great motivator.  I felt like pushing myself each day."
"I really enjoyed the time of day, variety & your friendly and encouraging instructors."
"I've enjoyed getting up early and then having the rest of the day to feel good about having done my formal exercise for the day.  It left me fee to do more with my 4 year old during the day."
"I've really enjoyed the variety of workouts (doing inside and outside sessions) and the explanations for which part of the body they benefited."
"These classes have given me a great kick start to losing weight, and I feel so much better and healthier with a long way to go still.  I manage to get through my days at work without fading in the afternoon as much."
"The variety and short bursts of lots of different things kept the sessions interesting."
"The things I've enjoyed most about the classes have been the improvement in my day, reduced stress levels, and the improvement in my body shape."
Exercising in the morning is a fantastic option for people who want more energy in their day.
Your body responds beautifully when you begin the day with some physical activity, and the best part is you'll have more time and energy to do what you want to in the evenings.
If you need help with motivation or with having more energy in your day, this is the program for you.
What happens in the sessions?
During the sessions our personal trainers will work with you to help motivate, teach and guide you through a variety of activities.
Sessions are a combination of cardio and strength depending on individual goals and capabilities.
Sessions are a combination of indoor and outdoor sessions (weather permitting).
Sessions are a great social setting with participants getting to know each other and encouraging each other along the way.  It's a great atmosphere to achieve personal challenges.
The last Friday session of the month includes an optional water exercise session to complete a tri-athalon style session.
Come in and try a class today.