Jazz, Funk & Hip Hop Dance Classes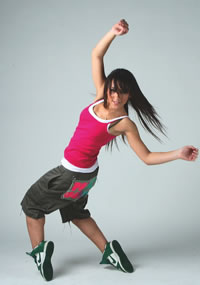 Move your body… Feel the beat… Dance like nobody's watching…
JAZZ – Jazz dancing is an energetic and fun form of dance that showcases a dancer's individual style and originality. Consisting of combinations of unique moves, it is a broad label that we put on dances seen in Broadway shows, concerts and dance companies. Jazz dancers learn to apply themselves to different choreographic styles and convey different characters within the dance.
FUNK – Funk is best described as the style of dance that you see in today's music video clips and dance performance shows. It is danced mainly to R&B, Hip-Hop and Pop Music. Funk dancing is the perfect fusion of styles, incorporating jazz roots into a melting pot of hip hop, break, popping and locking, along with other fashionable dance genres.
HIP HOP – Hip Hop is a street style dance from the Bronx in New York City. It's a free, funky and soulful expression of movement. There are very few rules of Hip Hop – it's all about feelin' the music and movin' smooth in a street-smart way. Hip hop dance has heavily influenced the new genre of 'commercial' dance that you can see on most music-videos.
The Teacher:
The teacher for all the classes is Matilda Slatter. Matilda has been learning dancing since she was 10 years old, training in Jazz, Cabaret, Ballet, Tap, Contemporary, Funk and Acrobatics.
She moved to Melbourne in 1998 to study full time dance at the Dance Factory where she gained a certificate 3 in Commercial Dance and Performance.
Through her dancing career she has learnt from well-known performers and choreographers (including Kelly from 'So you think you can dance'!), and between traveling and working over seas she has continued to study other styles of dance including Belly Dancing, Salsa, Street Latin, Tango and Hip Hop.
Matilda's knowledge of dance, physiology and bio-mechanics is a unique combination, having also established herself as a gym instructor, aerobics instructor, personal trainer, and Pilates instructor. She is also the School Holiday Program co-ordinator at Healthways and has a fabulous rapport with children. A very conscientious teacher, her classes are fun and challenging.
What happens in Class?:
All classes are a fusion of Jazz, Funk and Hip Hop within each session. The technical foundations of Jazz compliment the free movement of Funk and Hip Hop, so that dancers can gain an understanding of how to control their body's movements and develop their own flair for dance.
Pre School classes run for half an hour and include gentle stretching, body isolations, coordination and rhythm exercises, followed by short dance combinations.
All other classes run for 1 hour and start with a warm up and stretches, body isolations, technique work, and some travelling combinations such as kicks, turns and jumps. Classes include learning a fun dance routine.
What to Wear:
All participants should wear comfortable and supportive clothes that are easy to move in (eg. Tracksuit pants, leggings, t-shirt, etc) and dance shoes or sneakers (which do not have 'grippy' soles).
Class Times & Prices:
2014:
3-5 year olds
Wednesdays 10.30-11.00am OR
Thursdays 4.00-4.30pm
$13.50/class
6-8 year olds
Tuesdays 4.00-5.00pm OR
Thursdays 4.30-5.30pm
$16.50/class
9-13 year olds
Tuesdays 5.00-6.00pm OR
Thursdays 5.30-6.30pm
$16.50/class
* Note: Regular Term Class Discounts:


A discount of $5.00 per child per term is available when a complete term is paid for in full, prior to term commencement.
A discount is available to families with 3 or more family members attending complete terms of dance classes. The 3rd, 4th, 5th, etc family members each receive a $16.00 discount per term.
Fees:
All class fees are calculated by multiplying the cost per lesson by the number of lessons in the enrolment period.
The most popular way of enrolling in classes is to pay your class fees over the phone, or you are welcome to come in an pay in person at reception.
Classes are confirmed by either:

Payment in full; OR
Payment of a $55.00 non-refundable deposit and then the balance for the term is due in the 1st week.

A discount is available when you pay in full and also to families with 3 or more family members attending dance classes during the term.  See pricing table above.
If you miss a class, you can do a make-up class in another lesson during the term.
Come & Try:
COME AND TRY OUR DANCE LESSONS NOW!…
3 WEEK COME AND TRY PROGRAM FOR $55.00.
To see whether our dance school is right for you, we offer a 3 week come and try program for $55.00 to new students.
If you're happy simply pay the balance in week 3 and stay on. Phone 9895 2300 to book.
Dance School Term Dates:
Term 2 2013:

Sun 14/04/13 – Sat 29/06/13

Term 3 2013:

Sun 14/07/13 – Sat 21/09/13
Bookings open to public on Sun 23/06/13.  Add your name to the call back list below.
Phone 9895 2300 to enrol in classes today!
If you would like to enrol in classes starting soon, phone 9895 2300 and our receptionists will be able to help you find a class time.
…OR if you would like to enrol in future terms or intensives, place your name on the call back list for those classes.
How does the call back list work?
Approx. 4 weeks before the end of term, current students start notifying us what class times they would prefer for the following term;
Approx. 3 weeks before the end of term, we start confirming current student's class times for the following term;
Approx. 1 week before the end of term, we open the following term's classes to new and returning students.  You can phone us any time after this date to enrol, however, we also offer a call back service so that we can call you in case you forget to call us.
To place your name on the call back list, simply fill out your details below:
cforms contact form by delicious:days
We look forward to seeing you soon.