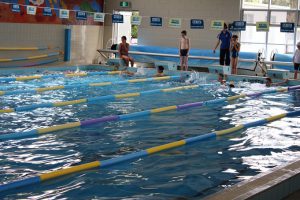 Healthways will be running its 3rd annual swimming carnival for all level 4, 5, 6 and 7 students on Sunday 12th November 2017.
This is an encouragement event to give children experience in participating and competing in an organised sporting event.
(All photos on this page are from the last Swim Carnival in 2015.)
This event is about more than just swimming!
This event aims to contribute to the social benefits of sports for kids. It is an opportunity for children to gain confidence and life experience in an encouraging and supportive environment.
The event is run like a professional sporting event. At the event there is:
An MC
A Starter
Marshalls
Time keepers
"Runners"
A program of events
And ribbons for each race!
Children will benefit from:
Participating in healthy competition
Goal setting
Dedication and practice
Showing good sportsmanship – being good winners and losers
Being part of a team
Learning to use nervous energy positively
Improving confidence and self esteem
And being proud of their achievements.
This is a 2 hour event and the children will have the opportunity to swim in up to 8 races, including:
Freestyle (25m for Levels 4 & 5 / 50m for Levels 6 & 7)
Backstroke (25m for Levels 4 & 5 / 50m for Levels 6 & 7)
Breaststroke (25m for Levels 4 & 5 / 50m for Levels 6 & 7)
Butterfly (25m for all Levels)
Individual Medley (100m only for Levels 6 & 7)
Freestyle Relays (25m for all Levels)
Backstroke Relays (25m for all Levels)
Novelty Relays (25m for all Levels)
Swimmers are grouped into events according to age, gender, and swim level. Starts for all swimmers are in-water, ie. no diving starts. Everyone is encouraged to cheer and support each other throughout their swims.
Event Details:
When:
Sunday 12th November 2017 from 2pm.
Doors open at 1.30pm. Pool is open for warm-up 1.50-2.00pm. Welcome from MC at 2.00pm. First events start marshalling at 2.05pm. Event is expected to run for about 2 hours.
Where:
Healthways Aquatic Centre, 108-110 New Street, Ringwood 3134.
Cost:
• $29.00 per swimmer.
This includes:
A 2+ hour professionally run sporting event!
Entry in up to 8 swimming events, including a mixture of individual and team events.
Winners ribbons for 1st to 6th placings in each event.
Entry at the event for up to 4 spectators per swimmer. Due to limited seating, we ask that spectators are limited to a Max. of 4 per swimmer.
FUN, FUN, FUN!
PLUS, 1 x Complimentary Practice Play Session at Ringwood Pool, any Saturday 12.15-1.00pm or 1.00-1.45pm before 12/11/17. You are invited to come in and practice in the pool before the event. Book at reception.
All students are encourage to participate and can enrol by completing the online enrolment form by CLICKING HERE.
Additional information for Level 4 students:
To encourage tentative children in Level 4 to progress to the higher swimming ability levels and to be involved in events like the swim carnival, we have put together a special offer for Level 4 students only. Level 4 students can choose to:
Participate in the swim carnival in full. This includes swimming in up to 8 events, winner and participation ribbons, FUN, FUN, FUN. Cost is $29.00. (As per above.)
OR Participate in 2 events only. This is a chance for those tentative swimmers to be introduced to a carnival atmosphere slowly. We are offering this introductory event for $14.50. There'll be winner and participation ribbons and FUN, FUN, FUN.
All students are encourage to participate and can enrol by completing the online enrolment form by CLICKING HERE.
What to bring:
Bathers & Goggles.
Swimming cap (optional).
Extra towels. Depending on how many events the children are swimming in, they will be getting in and out of the water a few times, so bring extra towels for them to dry off between events.
Water bottle.
Food. Children and adults may get hungry during the event so bring some snacks. Please just make sure the children don't eat large amounts between races. Small snacks only. Fruit and small high energy foods are good. (Note: Drinks and confectionary are also available for purchase at reception.)
Personal medications, eg. Asthma pumps.
Your CAMERA!
Any other personal requirements.
Fold out chair (optional). Chairs at the venue are limited, so if you would like a guaranteed chair please bring your own fold out chair.
See you at the Carnival!!