BOOKINGS NOW OPEN!
The centre is re-opening on Monday 9/11/20.
On the back of zero COVID cases for seven days in a row, government has confirmed that they'll be making announcements on Sunday re: the restrictions that will ease on Monday 9/11/20.  My goodness, everything looks so good to re-open as planned.  What a great result.  Well done Victoria!
Please see below for the planned timetable and instructions for how to book.  Welcome back!
---
PLANNED Timetable
As with all activities around Australia right now, there is strict rules on how many people can attend the centre at a time.  There is also strict rules about class start times needing to be staggered.
Using regional Victoria as a guide, the timetable below is what is expected to be announced on Sunday.  We are taking bookings for this timetable as of now.  See below to book.
All your favourite on-site sessions are back!  Aqua Aerobics, TRX, & Teen Gym are all back!
All your favourite Live-Stream classes are still there.  (Note: Cardio Combat has been re-named as Cardio Active, so that a variety of high intensity cardio moves can be incorporated.)
And there's some new additions too!  Zumba Gold & STRONG by Zumba are on the timetable.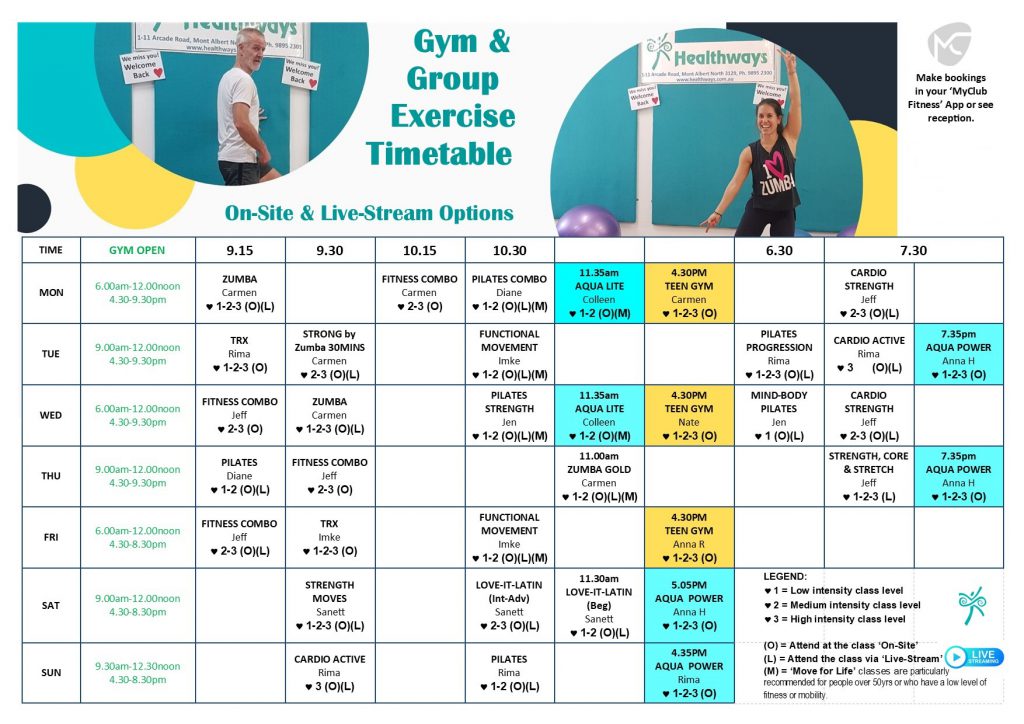 ---
Making Bookings via MyClub App
During lock-down we have installed new software for memberships and bookings.  You'll be able to manage your bookings and membership via the MyClub App.  Follow the instructions below to get yourself set-up.
Please understand that this is new software for the centre, and it is after a long business closure so the majority of people will be able to set themselves up in the app yourself, but there will be some people that we'll need to help set you up manually.
Try the following instructions. If you get a message at the end to contact your club, send us an email and we'll be able to manually turn your App on at our end. Once that's done, you should be set to go!
CLICK HERE for booking instructions.
---
What will happen with memberships when we open?
As per all previous communications, we would like to continue to reassure all clients that we will honour any services you have paid for:
Re: Memberships.

If you have continued your membership with the zoom classes during closure, your membership will continue.
If you suspended your membership while we've been closed.  When the centre re-opens the automatic suspension will be lifted and everything will continue as before.  Effectively as if a 'pause' button was pressed during the period of centre closure.  For direct debit memberships, the first direct debit date is Monday 09/11/20.

Re: 10 visit cards.

There's no expiry date on ten visit cards, so when we re-open they'll be able to be used exactly as normal.
Your support has made ALL the difference to being able to support our staff and the business over this challenging time.  Small and local businesses support the community.  We have absolutely gotten behind the 'Support Local' movement with our suppliers and community, and thank you so very sincerely for doing the same with us.
"Hello.  We miss you and look forward to seeing you all again soon.  Stay Safe.  Healthways Team"

---
Physical Activity for your Health
When we all start leaving our houses over the coming weeks, we want to be able to live life to the full and reduce the chance of injury.  Please note some changes to the live-stream timetable to support you get back to life outside, with particular focus on:  Functional Movement, Posture, & Maintaining Muscle Condition.  (Timetable below.)
Functional Movement Classes – Imke is a functional movement specialist!  This is her passion and it is so relevant at this time.  Functional movement principles are based on real-world situational biomechanics.  Exercises usually involve multi-planar and multi-joint movements that engage the body's core musculature and innervation.  These are classes to improve your quality of life and prevent injury as we start being able to do more in the outside world.

Tuesdays 10.30am
Fridays 10.30am

Pilates Progression – Pilates is such a wonderful all-round discipline, and it is fabulous that some people are reporting that they're feeling the most capable they have in a long time.  To give those of you who are wanting a particular challenge to your Pilates regime, Rima's Tuesday night Pilates is a class to add to your weekly schedule.  Particularly for people with some Pilates knowledge who want to challenge their ability before we get out into the real world.
Strength & Muscle Conditioning – Maintaining your muscle condition is so important at this time.  In stay-at-home restrictions all the incidental exercise that we normally do throughout our day has stopped, and our muscles are not as conditioned as they once were.  Increasing your muscle condition now will give you more energy and capability for when you want to enjoy life outside of the home again.  You'll need some light weights.  If you don't have hand weights you can use tins from the pantry or bottles filled with water/rice.

Strength, Core & Stretch – Thursdays 7.30pm (A traditional low-impact weights class with Jeff.  This class was only going to run for 3 weeks, but with the extension to restrictions it's continuing due to popular demand!)
Strength Moves – Saturdays 9.30am (A choreographed weights class with Sanett, to engage your muscles and your brain.  Our brain needs conditioning too!)
Pilates Strength – Wednesdays 10.30am (Combining Pilates with a strength component.  Low-impact.)

Dance and Choreography – Okay, let's talk about our brains.  With the reduced stimulation at home, hands-up if your brain has gone to mush.  Incorporating your body with memory is an effective way to improve brain function.  You'll need to remember choreography in these classes, and have some fun too!

Zumba – Mondays 9.30am & Wednesdays 9.30am
Love-it-Latin – Saturdays 10.30am (int-adv) & 11.30am (beg)
Strength Moves – Saturdays 9.30am (combining dance moves with light weights)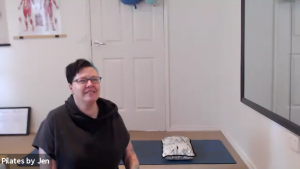 EVERYTHING ELSE ON THE TIMETABLE IS CONTINUING AS NORMAL – All your favourites are still there.  Pick something that suits your ability and start getting your body and mind ready for life outside.
.
.
Need something light?  Try:

Pilates – The all-rounder for your core, stretching and muscle engagement.
Pilates Strength – Adds a strength and conditioning component.
Mind-body Pilates – Adds a relaxation and mind-body connection component.
Functional Movement – All about your biomechanics to help you with your daily living tasks and quality of movement.
Want something to challenge you?  Try:

Fitness Combo – Combining strength and cardio exercises in the morning to get you going for the day.
Cardio Strength – Combining strength and cardio exercises at night to finish off your day with a bang.
Cardio Combat – Combining kick-boxing moves to increase your heart rate and a fun release for your fight/flight response.  Not for beginners.
Pilates Progression – For people with some Pilates knowledge who want to extend their Pilates routine and improve their core and muscle recruitment. Low impact.
Strength, Core & Stretch – Utilising weights to maintain or build all over body and core strength. Low impact. Includes a stretch component.
Dance combinations to awaken the brain!  Try:

Zumba – Funky music and Latin inspired dance and exercise moves to get you moving and having fun.
Love-it-Latin – A workout for your brain and your body.  Latin inspired dance moves to switch on your memory, create mind-body connections, and learn a fun routine.
Strength Moves – Uses light hand weights to add a strength component to a range of dance-style moves that will get your brain ticking, your heart rate up, and your muscles firing.
---
*NEW* Online Class Video Library
Want to exercise from home in your own time?  OR Did you miss a live-stream class?  That's okay, catch-up after.  
Stay active from home in your own time.  We've set-up a video library of the live-stream exercise classes for you to watch and follow.  It's all included in your membership.
We'll be adding another 3-5 classes to the library each week.  If you have a recording request let us know by emailing healthways@healthways.com.au and we can get that date/class up first.  In the meantime, we'll continue working through the catalogue of class recordings we've got for you to stay active from home in your own time.  Enjoy!
---
*NEW* Outdoor Personal Training
Why have a personal trainer?  Having extra monitoring and on-hand expertise means that you can work out optimally, get the intensity and movement correct and try new exercises progressively.
Your personal trainer will work out challenges with you and adapt your challenges as you improve, keeping you on track and focused.
Outdoor Personal Training operates under an approved COVID-safe plan including: a maximum of 2 people plus the trainer, within 5km of the client's home or permitted workplace, maintaining social distancing, with the instructor wearing a face covering, and no sharing of equipment.
This is the first step to being able to get back into face-to-face training!
Personal Training is perfect for people who:
Have limited time available for exercise;
Want tailored, professional, expert advice to best achieve their goals;
Have a specific goal or a set time period to achieve their goals; or
Have health/mobility/other considerations that require more individual attention.
Our wonderful personal trainers are offering outdoor personal training:
Monday mornings/evenings
Tuesday mornings/evenings
Wednesday mornings/evenings
Thursday mornings/evenings
Friday mornings
Who's part of the Healthways team of personal trainers?
You've met the trainers in the live-stream classes, but here's some more about our wonderful team.
All our qualified personal trainers are skilled in:
Weight loss/gain;
Strength training;
Improving cardio fitness;
Motivation psychology; and
Injury prevention.
In addition, they are involved in other areas of the health and fitness industry, as listed below: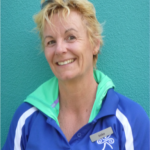 Imke Calleja – is a qualified and experienced Fitness Instructor, Group Fitness Instructor and Personal Trainer. She was a recent finalist in Victoria's Fitness Industry 'Group Fitness Instructor of the Year'.  She has been a Personal Trainer for the last 15 years. As an ex-nurse Imke loves to help people to improve their health (mentally and physically).  She specialises in rehabilitation in all age groups, which means very individual workouts for functional movements, strengthening, increased balance and improving wellbeing in general.  Imke is an easy go lucky person, who has always a smile on her face, she is passionate about healthy eating and keeping fit.  She started practising karate as an adult and she can integrate it into her sessions. She always attends regular industry professional development to stay at best-practice because she believes that we never stop learning and our bodies never stop improving.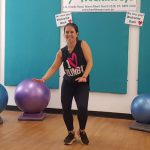 Carmen Sanz Paredes – is a qualified and experienced Fitness Instructor, Group Fitness Instructor, Personal Trainer and Zumba Instructor.  She is originally from Spain, and has worked in the fitness industry across multiple countries.  She is passionate about keeping fitness fun.  If you enjoy what you do, you'll stick with it and reach your goals.  She loves utilising different equipment and exercises to keep you challenged and moving.  She has a strong following in her Zumba classes and her personal training clients often reference her energy and enthusiasm.  Carmen will keep you motivated and having fun while you challenge yourself.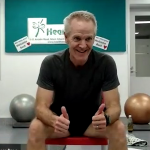 Jeff Parker – is a qualified Fitness instructor, Personal Trainer, Group Fitness instructor and Boxing instructor. Jeff has great passion for health and fitness and experience across a wide range of sports and activities. He also has extensive experience in corporate roles specialling in leadership, mentoring, team and individual development and understands the importance of the role that health and fitness plays in delivering quality to our everyday work and personal lives. Jeff's personal mantra is "be your best".
Jen Findlow – Jen is a qualified and experienced Pilates instructor, Fitness instructor, Group fitness instructor and Personal Trainer with 8 years experience.  Jen has a Diploma in Contemporary Pilates encompassing mat work and all types of Pilates studio equipment.  Her particular interest is in making studio style Pilates accessible for the average gym client by incorporating exercises for use with standard gym apparatus such as hand weights and resistance bands.  Additionally, she offers Reformer Pilates personal training at Healthways.  Studying functional movement disciplines and expanding her Pilates knowledge is a passion.  Jen is also passionate about guiding her clients on their fitness journey so they understand their bodies and become their own teachers instead of always following a prescribed workout plan.  Having recently celebrated her 50th birthday, Jen credits her continually improving abilities in her favourite sports of rock and ice climbing and snowboarding to her own personal Pilates practise.
For more information, to enquire or to book, fill out the online form by CLICKING HERE (or send an email to healthways@healthways.com.au with your preferred times/days).
We look forward to seeing you face-to-face outdoors soon!
---
We'll see you soon
We'll be in touch with more information as time goes on, but here's a few things that we DO know about re-opening:
We've done it once, and we can do it again
The centre has everything in place to be able to re-open again.  There was hours and hours of planning undertaken for reopening the first time.  It's all done, everything's organised and in-place.  It will all be there ready for when restrictions are lifted again.
Everyone followed the 'new normal' with confidence
Thank you to everyone who returned to the centre for the 3 days that we were open between lock-downs!  There was overwhelming joy and excitement about being back (and then sadness and disappointment about going back into lock-down).  While we were open it was so wonderful to see everyone again.  Thank you to everyone for following the 'new normal' procedures with due diligence and care.  You made everyone feel comfortable and confident about being back.
There will be extra confidence when restrictions lift again
When restrictions lift again we know that the government will only do so because they have absolute confidence that things are under control.  We look forward to doing it all again then.
Information updates
We'll continue to be in touch by email and on the website over the coming weeks.  Thank you.
Healthways ongoing COVID-19 response:
Healthways is committed to:
Following any government advice and implementing policy and procedure recommendations;
Following any requirement from the government in regard to business operations; and
Following any requirement from the government in regard to business closure.
Thank you for being part of the Healthways family.  Let us all respond to this evolving situation thoughtfully, stay calm and act responsibly; and in the Australian tradition let us all look out for each other, support each other, and we will get through this together.
If there is anything further you wish to discuss please contact us by email at healthways@healthways.com.au