Personal Training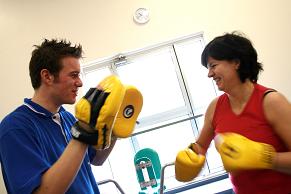 Why have a Personal Trainer?
Having extra monitoring and on-hand expertise means that you can work out effectively, get the intensity and movement correct and try new exercises progressively and safely.
Its not easy to find the time to exercise in a busy schedule, so making sure you use your time wisely is essential. Your personal trainer will work out challenges with you and adapt your challenges as you improve, keeping you on track and focused.
Personal Training is perfect for people who:
Are truly serious about achieving their fitness goals;
Have limited time available for exercise;
Want tailored, professional, expert advice to best achieve their goals; or
Have tried gym memberships before and felt that they haven't seen results.

A unique offering!
We have personal trainers with aqua accreditation who can offer you solely water-based sessions or a combination of land and water-based sessions. Who could benefit from this type of session:
People who want a cardio workout but with low impact to the body;
People who want hard resistance training but with low impact to the body;
People who have injury or joint and muscle inflexibility;
People who get bored and need variety; or
People who just love the water!
Can I choose my trainer?
Both male and female instructors are available for one-on-one personal training. You can select someone you already know, whose personality and experience suits you. Alternatively we can make a selection based on your available days and time.
When it comes to getting results, all trainers work within your needs to maximise your work outs. All trainers work with exercise beginners through to advanced.
Who's part of the Healthways team of trainers?
All our qualified personal trainers are skilled in:
Weight loss/gain;
Strength training;
Improving cardio fitness;
Motivation psychology; and
Injury prevention.
In addition, they are involved in other areas of the health and fitness industry, as listed below: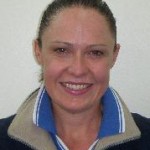 .
Melinda Purnell – Melinda's knowledge encompasses advanced exercise programming, fitness for special requirements and the principles of nutrition.  She is a mother of two and knows from experience what it takes to lose baby weight.  She specialises in the reduction of body fat, improved strength and increased cardiovascular fitness.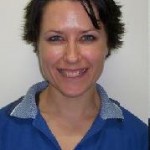 .
Matilda Slatter – Matilda is a very experienced trainer with a super fine eye for technique.  She specialises in designing programs for special requirements, such as rehabilitation, sports specific training, core stability improvement, etc.  She is also a qualified mat Pilate's instructor.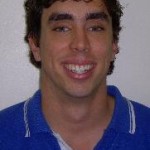 .
Paul Sartori – Paul is a highly motivated personality and his clients love being spurred on by his energy and enthusiasm.  With a degree in 'Exercise & Sports Science' he is exceptionally qualified in exercise techniques and he is also involved in community sport programs for teens and adults.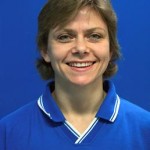 .
Rachael Phillips – Rachael is an extremely versatile trainer, and has a fantastic ability to be gentle where needed and tough where needed.  She is a competitive boxer and kick boxer, in addition to working with teen, elderly and hydrotherapy rehabilitation clients.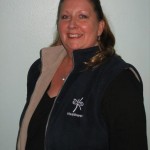 .
Wendy Brammer – Wendy won 'Victorian Group Exercise Instructor of the Year' in 2008 from Aquatics and Recreation Victoria, and she brings the same level of energy that won her that award to her personal training clients.  She is particularly interested in using exercise to help reduce health risks such as diabetes, osteoporosis and heart disease.
.
At Healthways Personal Training is affordable.
At Healthways we offer half hour or hour sessions, and single sessions or session packages to fit into anyones budget. For example, half hour sessions range from just $28-$39ea. Choose whatever works best for you. Full price list below.
REMEMBER: There are no gym entry fees or other hidden charges! It's all inclusive!
2013:
Half Hour Sessions
Hour Sessions
Single Sessions:
$42.00ea
$64.00ea
12 Session "Trial" Packs*:
$478.80
(ie. $39.90ea)
$729.60
(ie. $60.80ea)
24 Session "Body Shaper" Packs*:
$907.20
(ie. $37.80ea)
$1,382.40
(ie. $57.60ea)
36 Session "I want my body back!" Packs*:
$1,285.20
(ie. $35.70ea)
$1,958.40
(ie. $54.40ea)
Upgrade offer
Compliment your personal training with group exercise classes or gym sessions in your own time.  The key to achieving your health goals is exercising frequently, so many of our clients combine sessions with their personal trainer and visits to group exercise classes or the gym.  The prices for using the gym outside of your personal training sessions are:
2013:
Adult
$21.00/session
Student
$20.00/session
10 Visit Card
$190.00
Note: 10 visit cards have no expiry date, and may be used for any group exercise class or gym session.
Gym Membership
$18.69-$23.92/week
Note: Unlimited group exercise classes and gym sessions are included in gym memberships. CLICK HERE for more information on gym memberships.
Gym Member Personal Training Discount: Please note that one of the benefits of gym membership is discounted personal training sessions. Most of our personal training clients also join the gym so that they can exercise more regularly AND receive a personal training discount. The prices for personal training when you're also a gym member are:
2013:
Half Hour Sessions
Hour Sessions
Single Sessions:
$35.70ea
$54.40ea
12 Session "Trial" Packs*:
$406.95
(ie. $33.92ea)
$620.15
(ie. $51.68ea)
24 Session "Body Shaper" Packs*:
$771.10
(ie. $32.13ea)
$1,175.00
(ie. $48.96ea)
36 Session "I want my body back!" Packs*:
$1,092.40
(ie. $30.35ea)
$1,664.60
(ie. $46.24ea)
*Note:  All personal training session packs are automatically valid for 12 months, which is usually HEAPS of time.  However, if you do require more time it is possible to extend the expiry date for $20.00 per additional month.  
Personal Training Lay-by Option
For 12, 24 and 36 session packs you can lay-by your personal training.  Simply pay a minimum deposit of 50% of the total price to start your sessions and they you have one month to pay off the balance.  While you are paying off your balance you can use the facilities and start your road to better health and fitness.
Ready-Set-Go!
To get started, come in for a no obligation facility tour and chat with one of the Trainers.
Have a look through what else we offer:
Still not sure what to do?
Are you still unsure about what to do?  To show you that our gym is comfortable for all – including people who have never come to a gym before – we encourage you to come in and try the facilities with a complimentary trial passes.  CLICK HERE for more information.
We look forward to seeing you soon.